FOSSI is dedicated to supporting scholars who would otherwise not have access to quality STEM education due to financial barriers.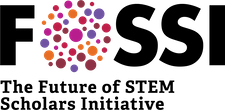 FOSSI Partners
FOSSI is made possible by the American Chemistry Council (ACC), the American Institute of Chemical Engineers (AIChE), Chemours, and HBCU Week Foundation. FOSSI is a core initiative of the AIChE Doing a World of Good campaign and its All for Good: Engineering for Inclusion priority, which is driving industry-wide improvement in equity, diversity and inclusion.
We invite others in our industry to join with us in this important work.
My family has generations of HBCU alumni. Although the time periods are different, the joy on their face when they speak about the HBCU experience is the same. I just want to experience that joy and also continue the tradition of attending an HBCU.
Chemours is committed to being a force for good in the communities where we operate. We're excited to be the lead sponsor for FOSSI and to work with companies across our industry to drive this game-changing program.
Why FOSSI?
When our industry opens doors in underserved communities to science, technology, engineering, and math education, we're helping equip ourselves and the world with a diverse, highly talented future workforce ready to bring the perspective and intellect needed to innovate and tackle the big challenges that lie ahead. For more information on how to apply, acceptable majors, deadlines, and the decision making process, visit FOSSI FAQs.
The challenges faced by underrepresented communities in today's world must be addressed.

Through the Future Of STEM Scholars Initiative, we are committed to helping build and connect communities, elevate standards of living and contribute meaningfully to the world's economy. This commitment cannot be realized without addressing equity, diversity, and inclusion in our profession and addressing the challenges faced by underrepresented groups.
Without action, the United States will fall behind.

Unless we ramp up STEM education for students who lack the opportunity to obtain it, the United States, once dominant, will fall further behind in the global technology economy.

Since 2006, there's been a continued Decline in the number of African Americans pursuing degrees in Engineering, as reported by American Society for Engineering Education (ASEE).
Of the 40 most advanced countries in the world, the United States is 38th when it comes to graduating science majors, according to a 2015 report of the Organization for Economic Cooperation and Development (OECD).
Economists project that over the next decade, China, South Korea, and India will produce over 50 percent of the world's engineers and scientists, with the U.S. contributing well below 10 percent.
The OECD ranks American students 17th in science achievement and 25th in math ability out of 65 countries.
What is FOSSI's focus?

FOSSI's initial focus is on increasing the number of minorities in the STEM workforce by providing scholarships to students pursuing STEM degrees at Historically Black Colleges and Universities (HBCUs) and connecting these students to internships, leadership development and mentoring opportunities at participating companies.

Our immediate goal is to fund 150 scholars for 2021, who represent:

A solution that delivers real impact for companies by significantly increasing the number of students underrepresented in the STEM talent pool.
A demonstration of meaningful corporate social responsibility and leadership by the chemical industry.

The need for this type of program is clear and immediate.

According to 2012 statistics from the United States Department of Labor, Black and Latinx college students make up less than 20% of those studying in science- or math-based disciplines and only 5% of the STEM-related workforce.1
HBCUs are well positioned to help fill the gap, as they are responsible for 40% of the bachelor's degrees awarded to Black students in such STEM fields as physics, chemistry, environmental science and mathematics.2
It is our belief that this program will support students in becoming the next generation of scientists, researchers, engineers, mathematicians and doctors, innovating and finding solutions to some of the future's most pressing problems.
FOSSI recognizes and rewards demonstrated achievement, talent, work ethic and most importantly, future potential of students that have been historically overlooked and underrepresented in our industry.

In future years, FOSSI will expand its reach to include other  underrepresented groups.

1 https://www.pewsocialtrends.org/2018/01/09/diversity-in-the-stem-workforce-varies-widely-across-jobs/

2 https://files.eric.ed.gov/fulltext/EJ1000229.pdf
Who does FOSSI support?

FOSSI is dedicated to supporting scholars who would otherwise not have access to quality STEM education due to financial barriers. Eligible applicants must:

Major in a STEM discipline
Plan to attend an HBCU on a full-time basis
Have a minimum GPA of 3.0 on a 4.0 scale
Demonstrate financial need

More information on the application and eligibility process coming soon.

 
I am proud of this partnership between the HBCU Week Foundation, AIChE, the American Chemistry Council, and Chemours. It is through partnerships like these, that black and brown children nationwide can actualize their full potential at HBCUs while minimizing the burden of student debt.
ACC and our members are committed to enhancing diversity in our facilities, our Board rooms and the communities in which we operate. We are proud to be a founding partner in this important initiative.
AIChE is fully committed to an equity, diversity, and inclusion goal of 100% parity in the profession. Working with such great partners, we envision FOSSI paving the way for hundreds of students to attend HBCUs — and to become the future superstars of the chemical industry.
Get Involved
Are you interested in getting your organization involved in FOSSI or would you like to stay informed on our progress?