FOSSI: Tell us a bit about yourself
Hi! My name is Cheyene Henry and I recently graduated from King's Fork High School after putting myself through the trauma that is the International Baccalaureate program. I have spent almost 99.9% of my life in the state of Virginia but that has not stopped me from fueling my curiosity and extending my horizons. As taxing as the program is, I give it all the recognition as it has built me into the young woman I am today.
IB has shown me so many things I was unable to recognize about myself, from how much I lacked in study techniques to how important a cohesive community is to me. My time in IB had the ability to shape me as a student in addition to showcasing what I desired in my secondary education.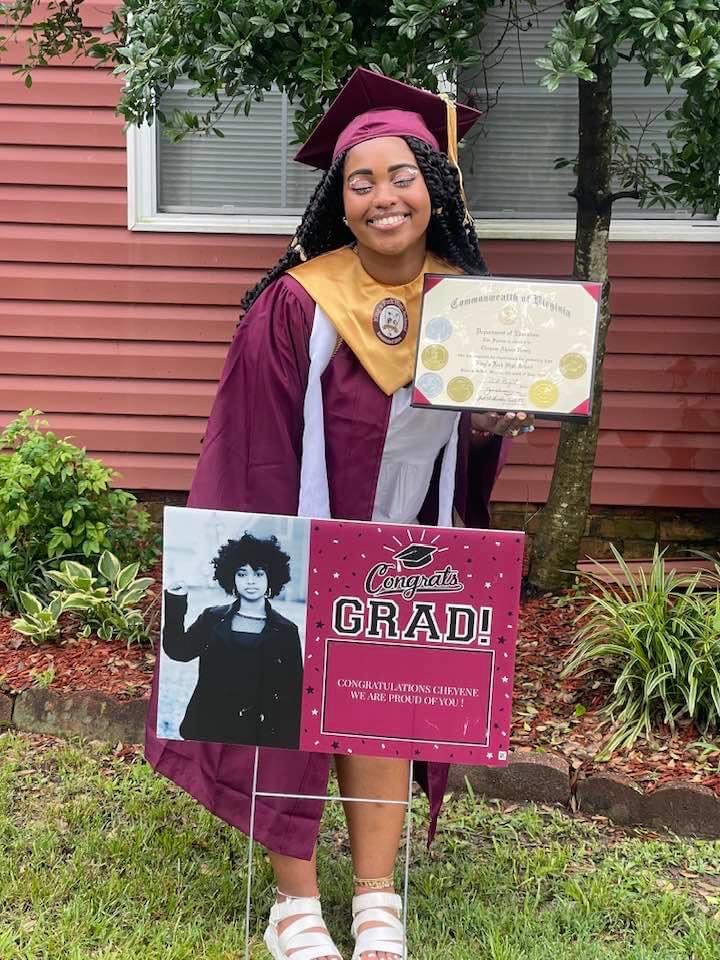 I knew fairly early my calling was to attend an HBCU. My love for my community is truly out of this world and I find it difficult to imagine myself in a space where I cannot be who I am with full transparency. I chose to further my education at Howard University for many reasons, one being able to live in the heart of the nation. Ultimate change begins in the heart and I yearn to be apart of a change that advances my community as a whole.
Why are you passionate about pursuing a degree in a STEM-related field?
My ever-growing interests and desire to learn everything about anything posed a major problem when it came time to sit down and choose the career I truly wanted to pursue. I was aware of my interest in multiple aspects and my own personal inclinations but had a faint idea as to what I was passionate about. To answer this question, I needed to proceed on my path of self-realization.
At a standstill in how I wanted to proceed with my career path, the one goal I determined as my ultimate was the ability to give back to my community. Having the ability to be in the world of investigating and facilitating research to help the advancement of minorities is simply a goal I cannot wait to reach. This same overall interest is the exact reason why my primary calling is within the chemistry field. Direct research in this field is the catalyst to a healthier future for all minorities.
Fun facts about Cheyene
You would think that since I live with myself everyday finding "fun facts" would be easy. In reality, I start thinking and tend to come to the conclusion "Wow, I'm kind of boring" but I have racked my brain long enough. So let's start easy! I share the same birthday as Martin Luther King Jr. (January 15th). I absolutely adore babies and small children, which is why I work at a daycare center and tutor on the weekends. My playlist is the automatic resolution to my bad moods. Steve Lacy and his band The Internet can be credited for my high school survival. Speaking of high school, I was elected as Class President, NHS President and even won the Most Likely to be President superlative.