FOSSI: Tell us a bit about yourself
My name is George Rivers, and I am a senior at Leonardtown High School in Leonardtown, Maryland. I am a very motivated varsity football player, saxophonist, and engineering student. One of the best moments happened during my sophomore year of high school. I got accepted into the engineering program at my school. I was excited to enter the program, and as a result, it helped me build confidence in the STEM field.
During my senior year of high school, I received an invitation of a lifetime. My football skills helped me to get noticed by the Blue-Grey football combine. After doing well at the combine, I received an invitation to play in the All-American Bowl held at the Dallas Cowboys AT&T Stadium in Dallas, Texas. I was able to play with some of the most talented players in the United States. I represented the east coast and helped my team to win the All-American Championship.
My family has taught me the importance of trusting God and how his words can direct our paths. In his words, he states that I can do all things through Christ who strengthens me. This was one of the first bible verses that I learned at my church, Zion United Methodist Church of Lexington Park. I remembered this verse during the time I was volunteering for a youth program called Moments With Children. I often repeat this verse to myself when I am feeling down. I believe that God's words are tools to help people during difficult situations.
Why is receiving the FOSSI scholarship important for you?
I have dreams of one day helping people make changes in their lives. I plan to help the economy with my education from the manufacturing engineering program at Virginia State University.
I am honored to receive this FOSSI scholarship. It will allow me to pursue my educational goals. One day, I will use my degree to help solve issues that impact our families and local communities.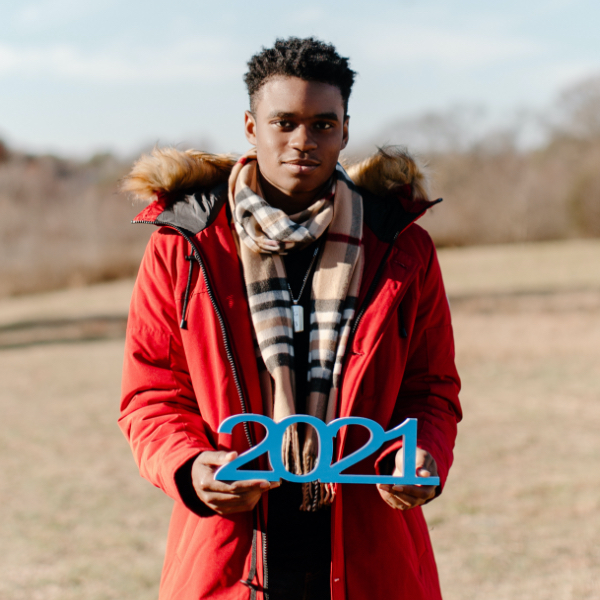 This scholarship will help me grow and prosper in many ways. I will be able to pursue my dream of going to Virginia State University and learning more about engineering. I know that I am a very hard-working young man. I also know that there are a limited number of African American males in the engineering field. I want to bring changes to the engineering career field. This scholarship is important to me because it will give me the confidence to pursue my educational goals without the stress of paying for college.
Fun facts about George
My long-term goal is to go to college and major in engineering. I desire to play college football, if given the opportunity. As a young boy, I dreamed of trying out for the NFL. I am a talented football player with multi-level skills to play at an advanced or professional level. I also have a passion for engineering.
In the future, I see myself thriving as a successful engineer. I can create and develop new ideas. I know my goal is to build products that people have never seen. I am an engineering intern at Jordan Research and Development. I am working directly under some of the best engineers in Maryland. I am thankful for my internship because I am able to make money while learning new things.